Day 56: White Mills to Springfield, KY
Good day today, much better than yesterday. I got up early at 6 without even setting my alarm. In fact, I'd fallen asleep without plugging in my electronics or anything, I'd just been so exhausted. I got packed and heard Dan moving around upstairs. He offered me some breakfast but I said no, that I was gonna get moving early. I got on the road about 6:30, saying thanks and goodbye to Dan and his dogs (I tried to get a picture but they don't sit still).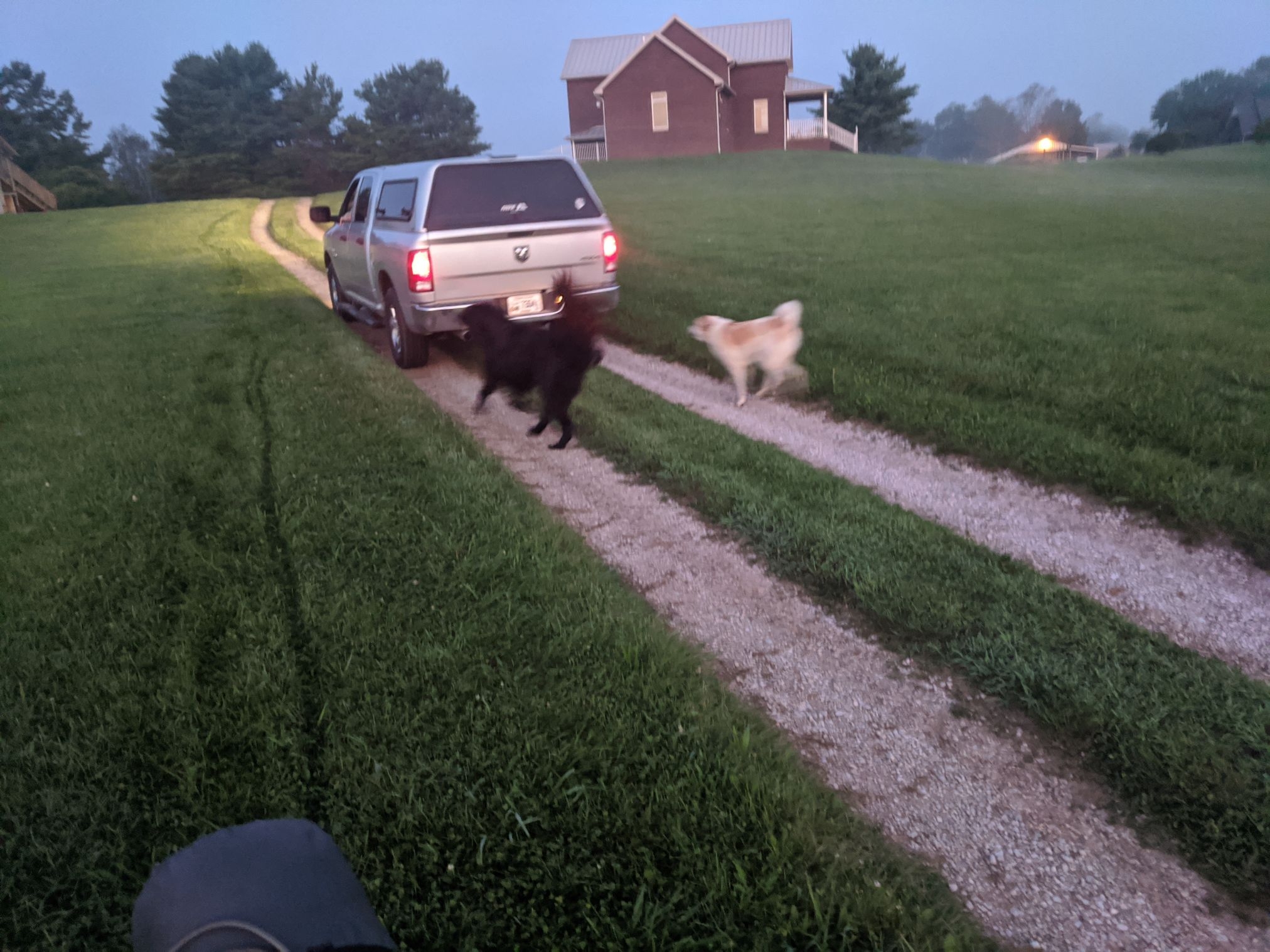 At the firehouse there was smoke rising from the grill, some people were barbequing chicken for the continuation of White Mills Day. They waved at me and I waved back. There was no one on the road for a good while so I got to relax and take pictures. I know there are a lot of samey pictures, but they're what I like, and it's my blog 😁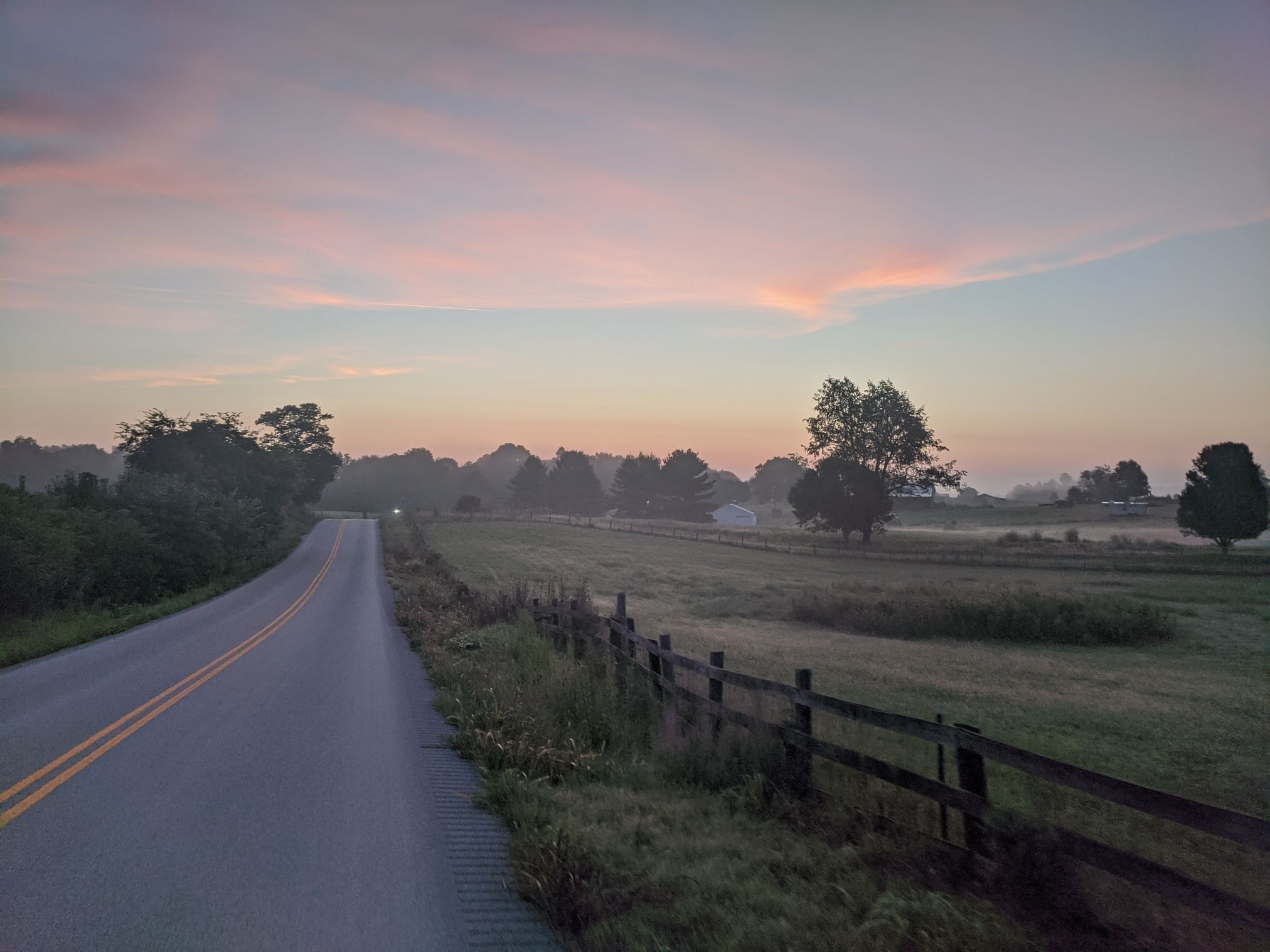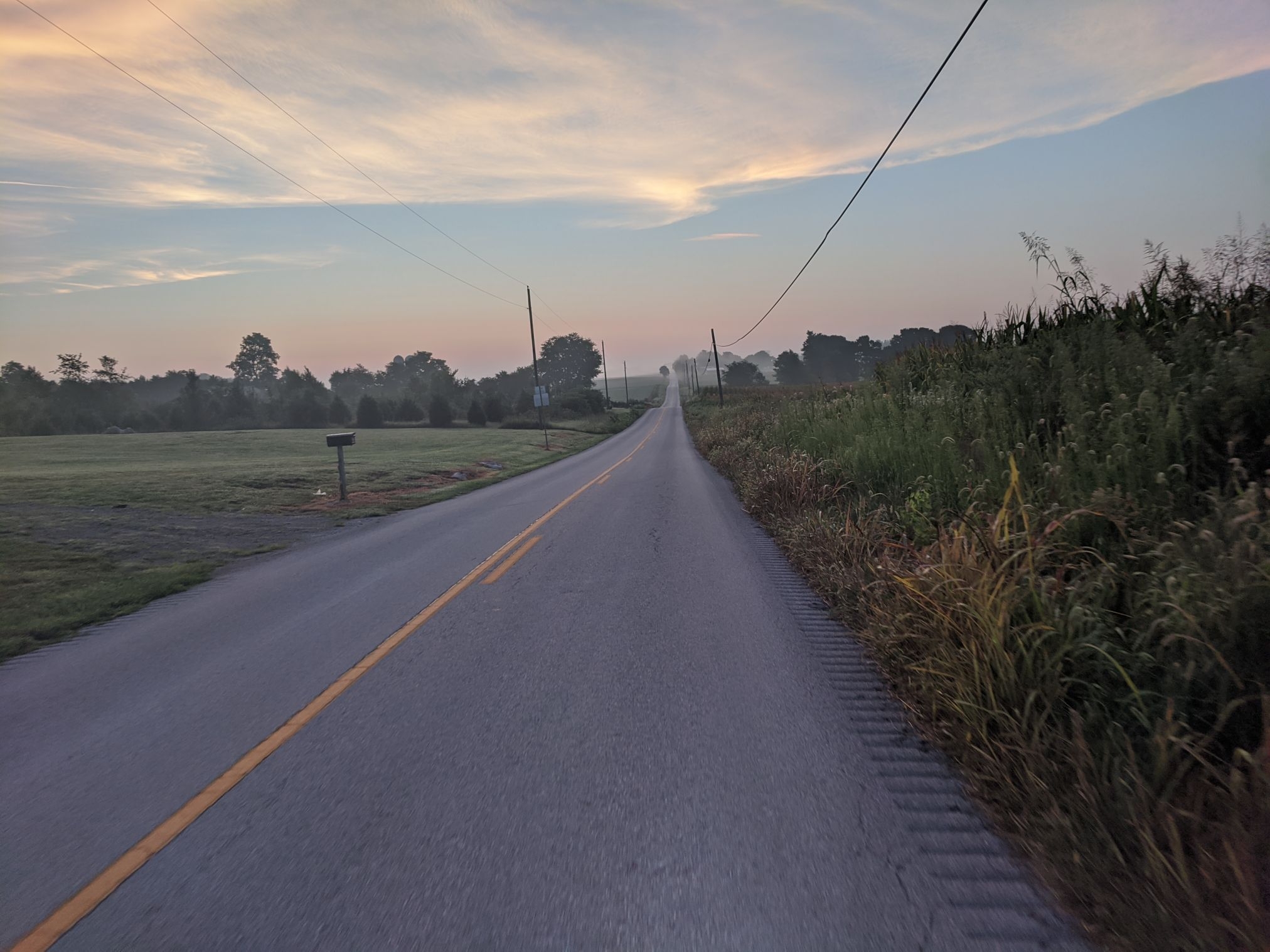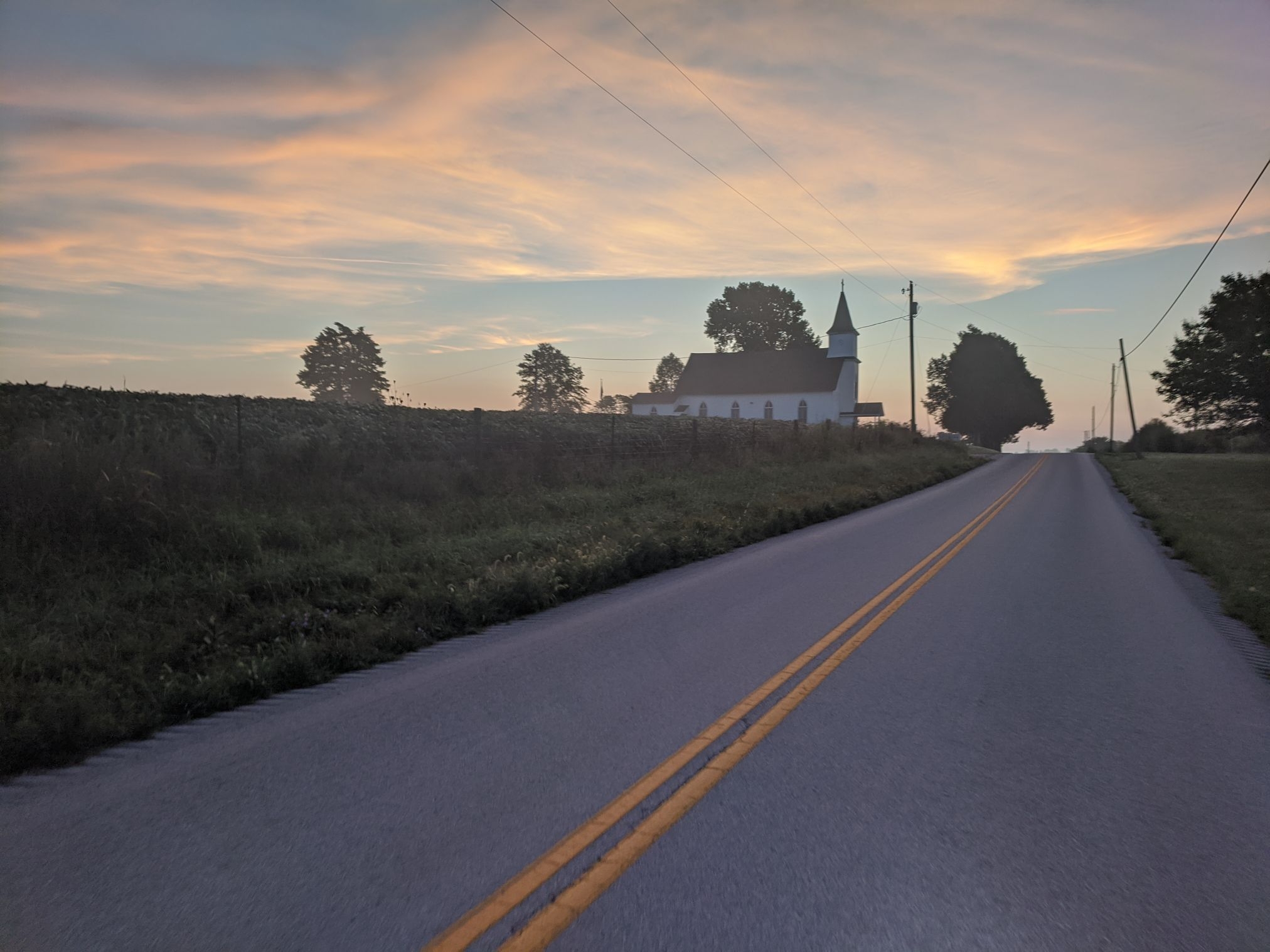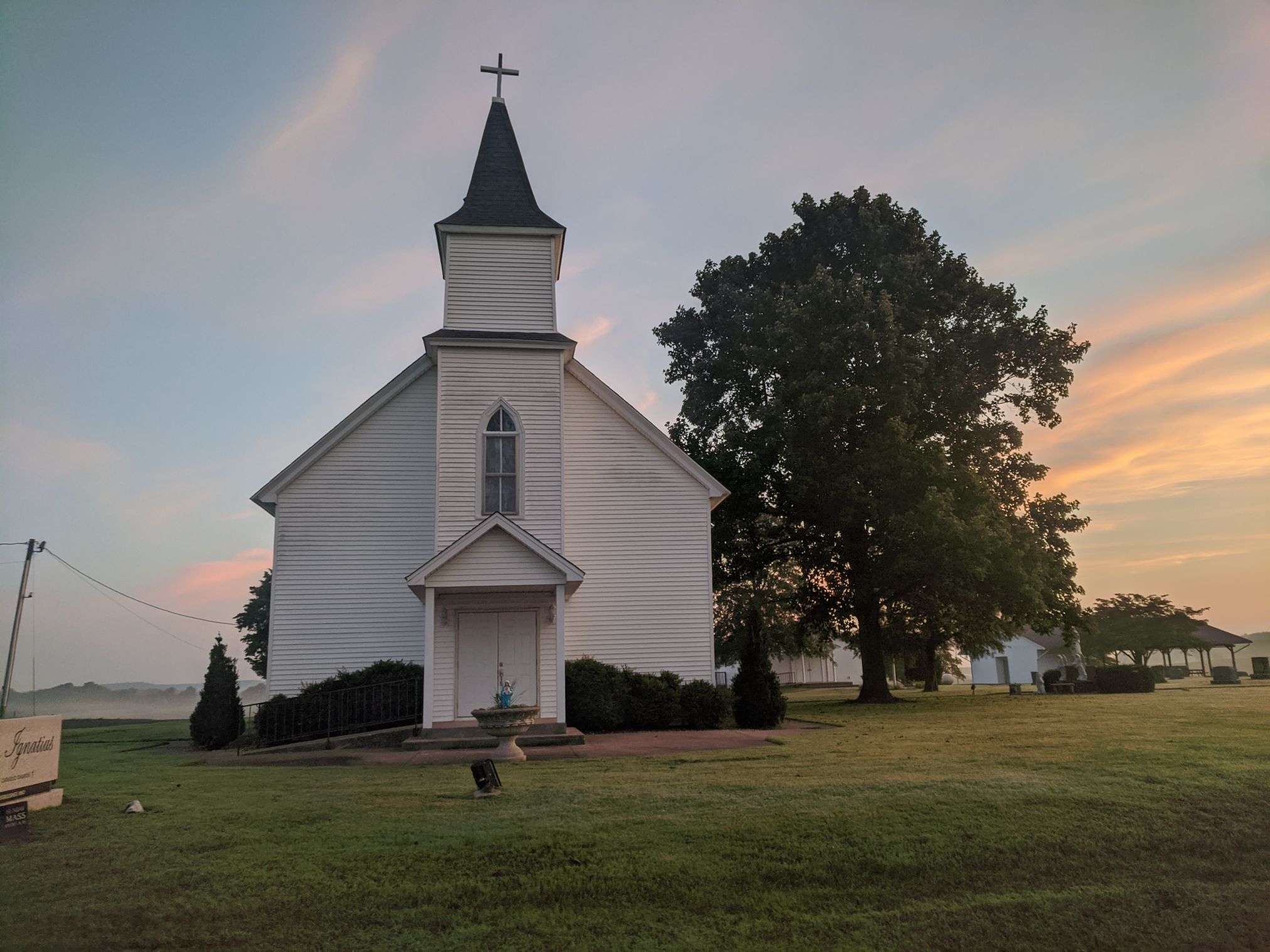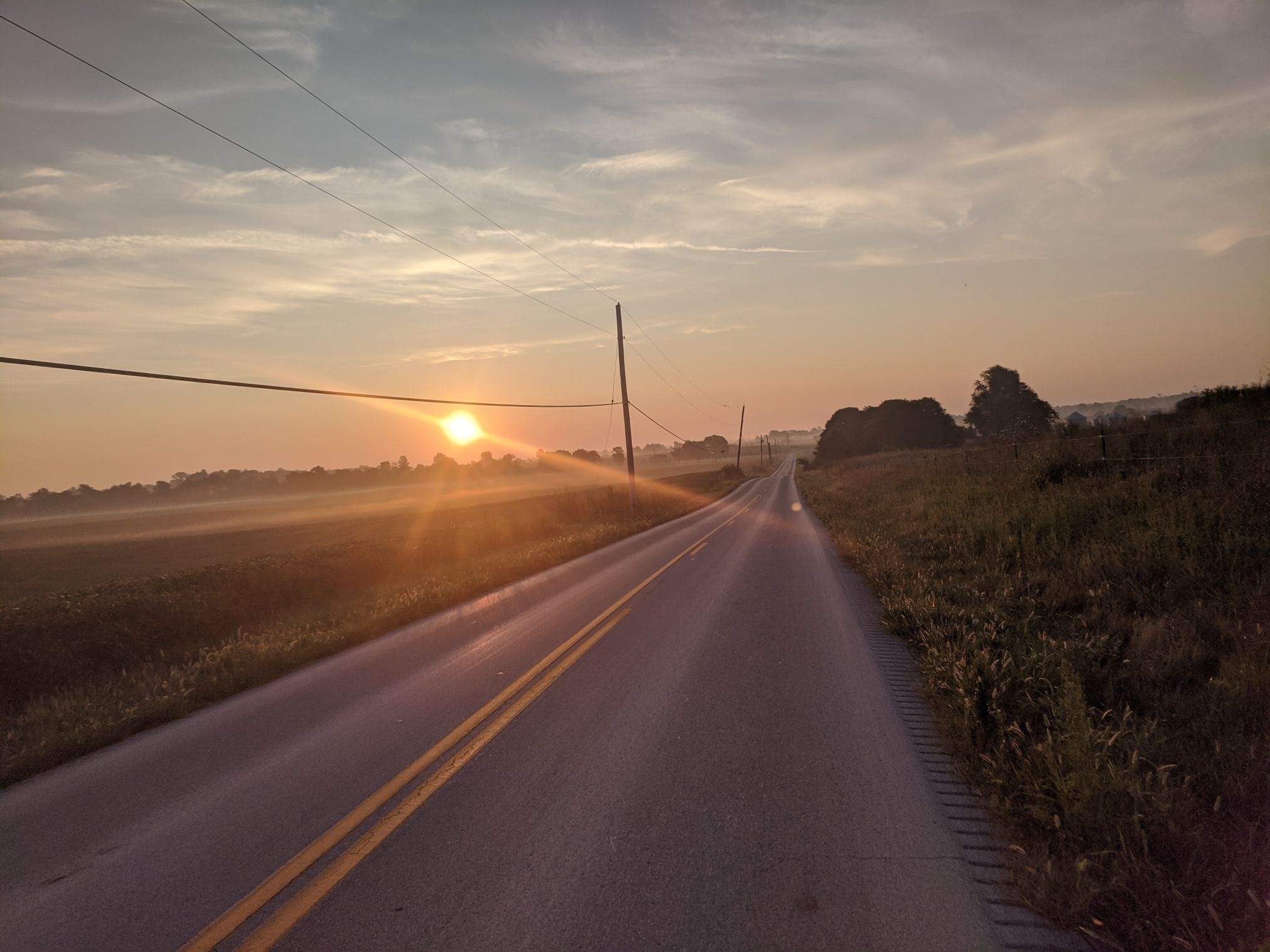 The sun rose slowly through the sky and I got to watch it, through the morning mist. It was gorgeous. I'm usually up to late and miss it so today was a treat. I made it to Sonora and stopped at a small diner, Cheeseys (or something). The locals were enjoying some breakfast and I joined them. They were impressed by the trip. One of them was around for the initial bikecentennial in 1976! I got a bacon egg and cheese but left fairly quickly, thanking everyone for their hospitality. I rode along Airline Rd for a bit, enjoying more tree tunnels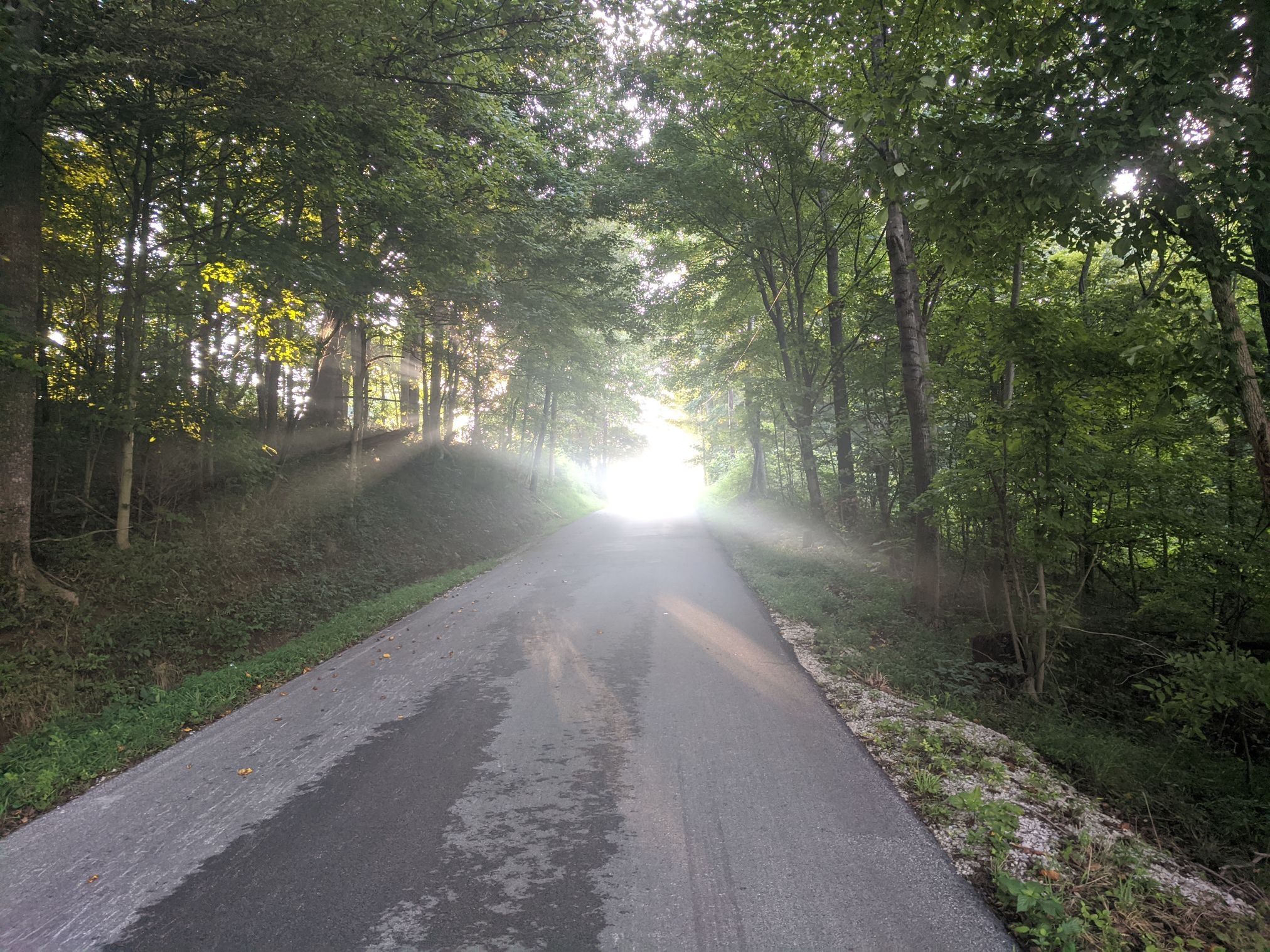 I passed a shirtless dude on a beach cruiser riding slowly down the road. I said hello but didn't find out what he was up to. 
I got a picture of a barn quilt (the painting on the barn that looks like a quilted image), which I've become a big fan of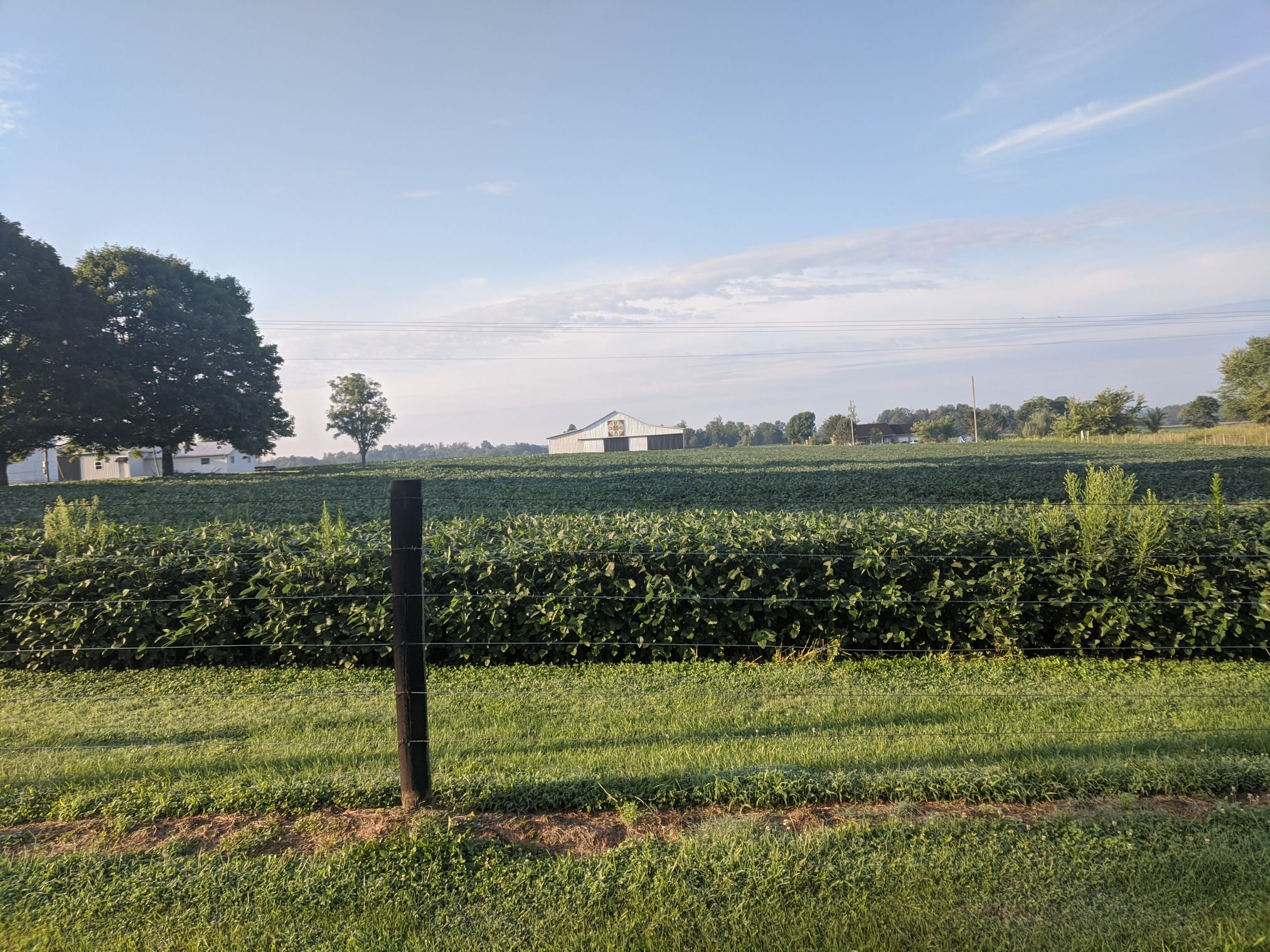 The owner was sitting on her porch and I complimented the quilt. She said thanks and said something about another rider, but I didn't quite catch it. 
The riding continued to be excellent as I rode through the town of Buffalo, got lost briefly, then turned north. I reached an intersection with highway 84 and while I was taking a break saw 3 other tourists riding by. They stopped and one of them was Paul, a dude I'd met way back in Jeffrey City, Wyoming. He was riding with 2 friends who were just joining for the next 2 days or so, and whose names I forgot. Paul and I tried to figure out how we'd missed each other for the last 1500 miles but couldn't figure it out. We got a great descent (maybe Paul is good luck) and then split up, they were headed to Lebanon for a hotel for the night. I was headed to Springfield. I rode along a pleasant river (Rolling Fork) for a bit then turned into corn fields. Is it possible fall is starting?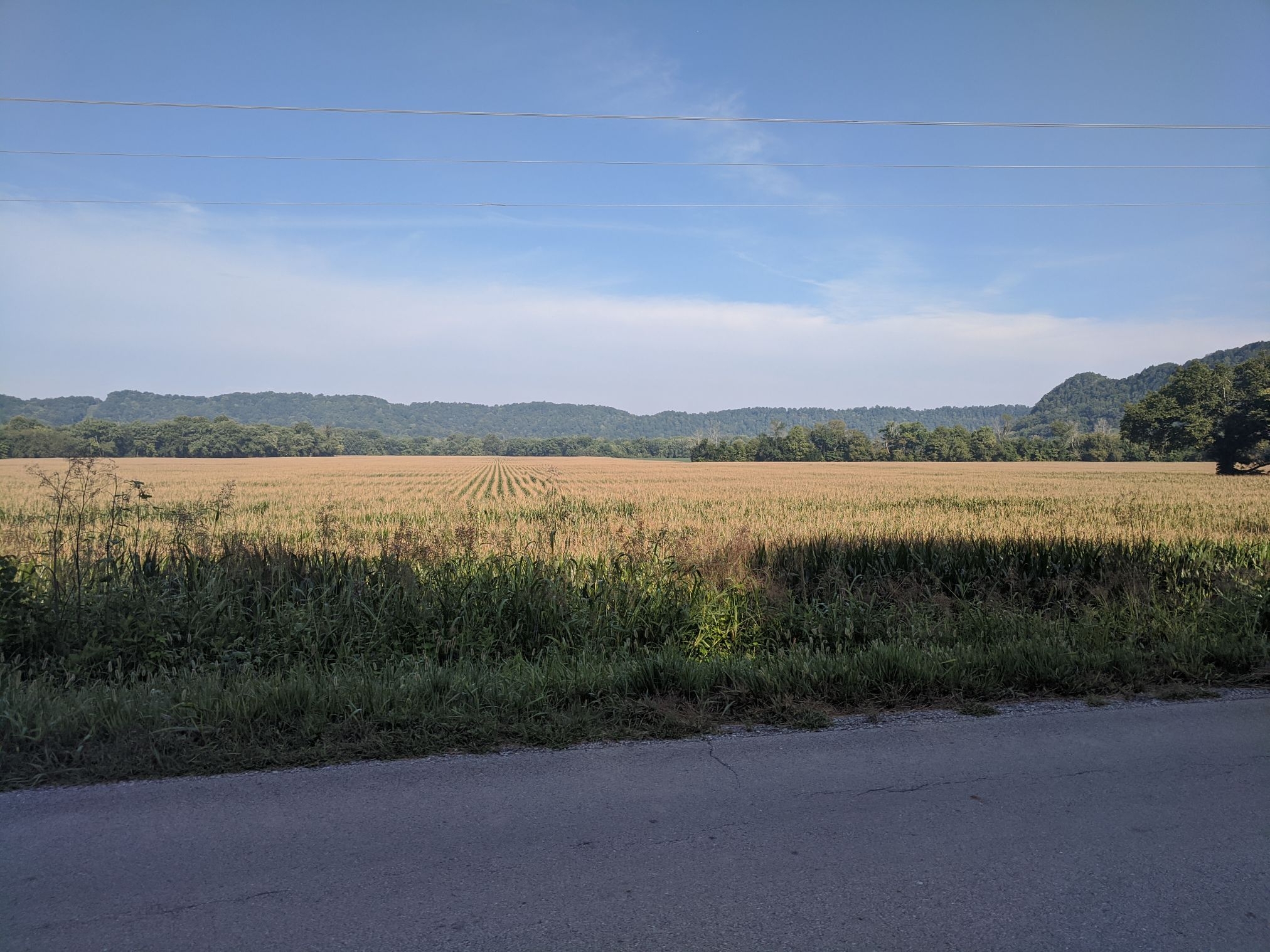 The day was heating up, but not too bad yet. I had a few hills then the route settled into small dips and climbs. I passed a turnoff to an old school Abbey and would have stopped but their website said they were closed due to covid so I kept going. A little bit further I saw a sign advertising food and music at a festival in the small town of New Hope. I climbed a short steep hill to check it out but nothing was happening. I probably should have actually read the sign to see what was happening, but I was descending and didn't want to brake. Stupid decision lol.
I was low on water and kind of bonking at this point. I hadn't been eating enough and was low on water. It's crazy that I carry around 10+ pounds of food and still manage to not eat. I had a snack and felt better, riding into the town of Loretto. This the location of the distillery for Makers Mark, among other whiskeys/bourbons (I don't drink excuse my ignorance).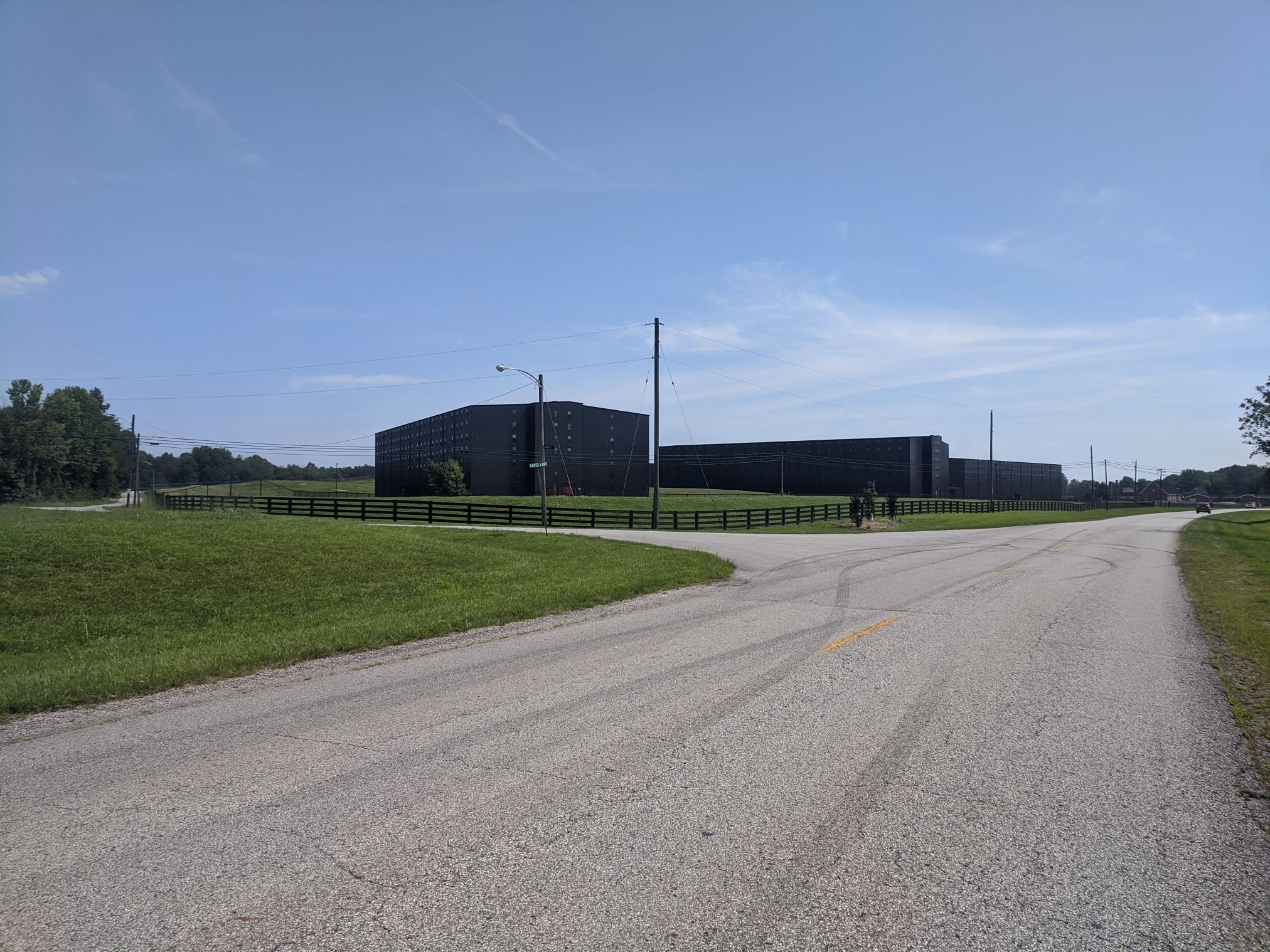 I went into a market and a friendly deli attendent made me a sandwich. I also got a bunch of other food and a slushee. For whatever reason it gave me the worst frozen headache I've ever had. It lasted for minute, which was just surreal. The rest of the food was good. I talked with a nice lady who was curious about all the bikes coming through, and a man who had his son with him on his quad bike. Everyone in this town seems super nice, maybe it's all the bourbon. I got back to riding after about an hour and felt much more like myself. I only had 10 or so miles into Springfield. I crested a hill and had a view down into the Springfield valley.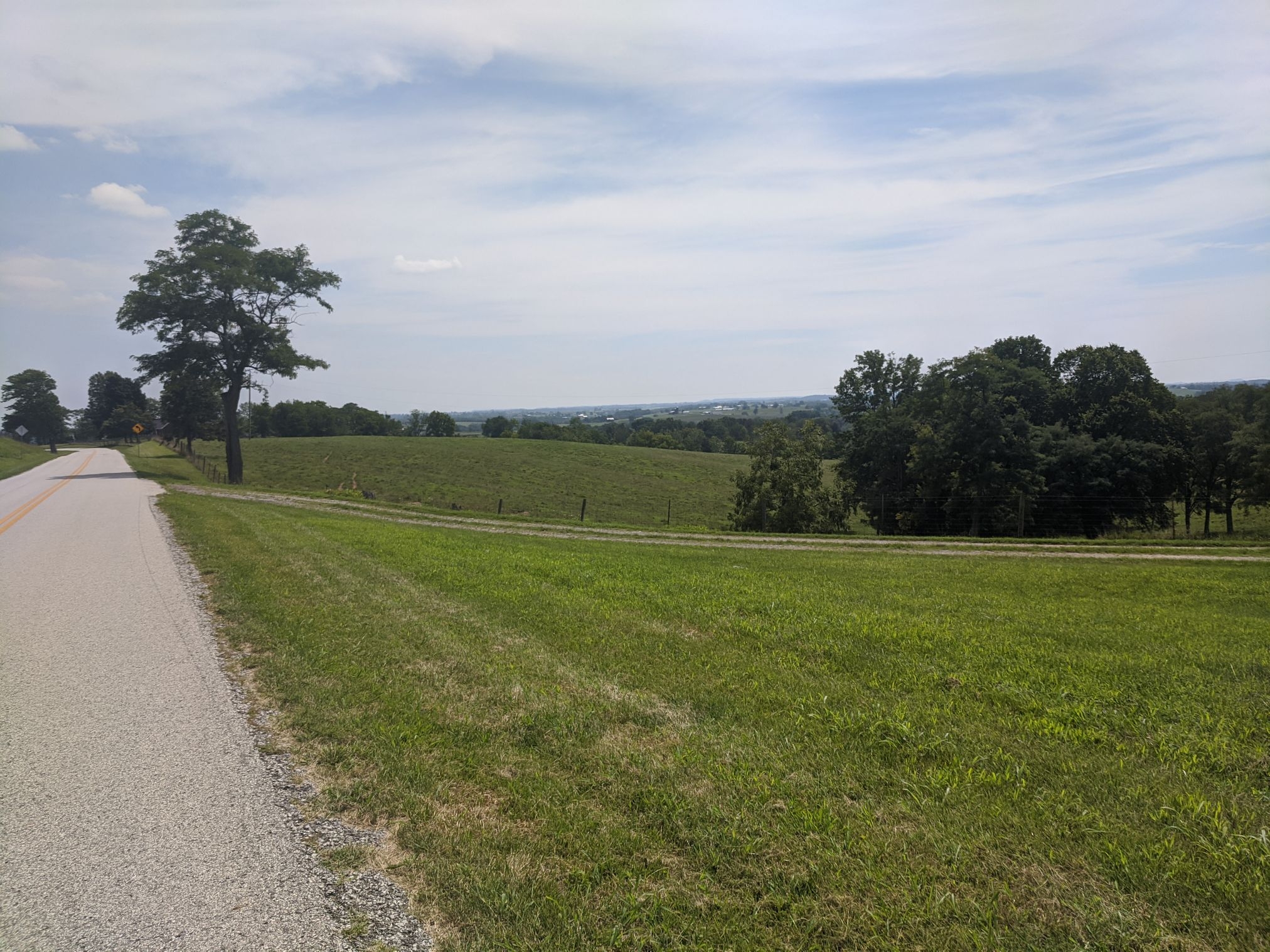 I made it to town and went to a McDonald's to use their wifi and figure out my plan. Unfortunately it seems Springfield is a covid hotspot and the McDonald's was take out only. I took my food out to a table outside in the shade and tried to think but ended up just falling asleep for an hour instead. I felt great when I woke up and decided to just call it for the day. There was a park in town as a last resort if I needed it, but I tried calling to different churches to see if any would let me stay there. None answered. I called the motel in town and they said they weren't taking guest for some reason. The park was looking most likely. I swing by the motel just in case and turns out they actually did have a room. The receptionist said both their cleaning people quit this week so they can't rent rooms because they can't clean them. Somehow I got lucky. She also said Paul had tried to get a room there, calling multiple times but there was nothing. I went to my room and talked with some family and did some minor bike work (lube and seat adjustments). I started a load of laundry then headed out for dinner. I went to a place called Mordecai's that had an all you can eat buffet, and it was seafood night. They've made a fatal mistake. I ended up eating two plates of dinner, a salad, and 6 bread rolls. I felt kind of bloated afterwards but damn it was nice to feel full that's tough on this trip. I rode through the park in the hope of finding other cyclists that I could offer my second bed to, but no luck. I grabbed some breakfast for tomorrow then headed back. I finished laundry and got to work on this post. 
Today was a good day, much better and less scary than yesterday. I think I might continue riding early to beat heat and traffic, but we'll see. Night!
Distance: 60ish
Consumption:
Clif bar
Sausage egg and cheese
Oj
Honey stinger
Gatorade
Sandwich
Chicken salad
Chips
Snack cake
Slushee
Soda
Watermelon
Big Mac
Fries
Soda
Soda water
2x plates of seafood
Salad
6 rolls
Mike and ikes